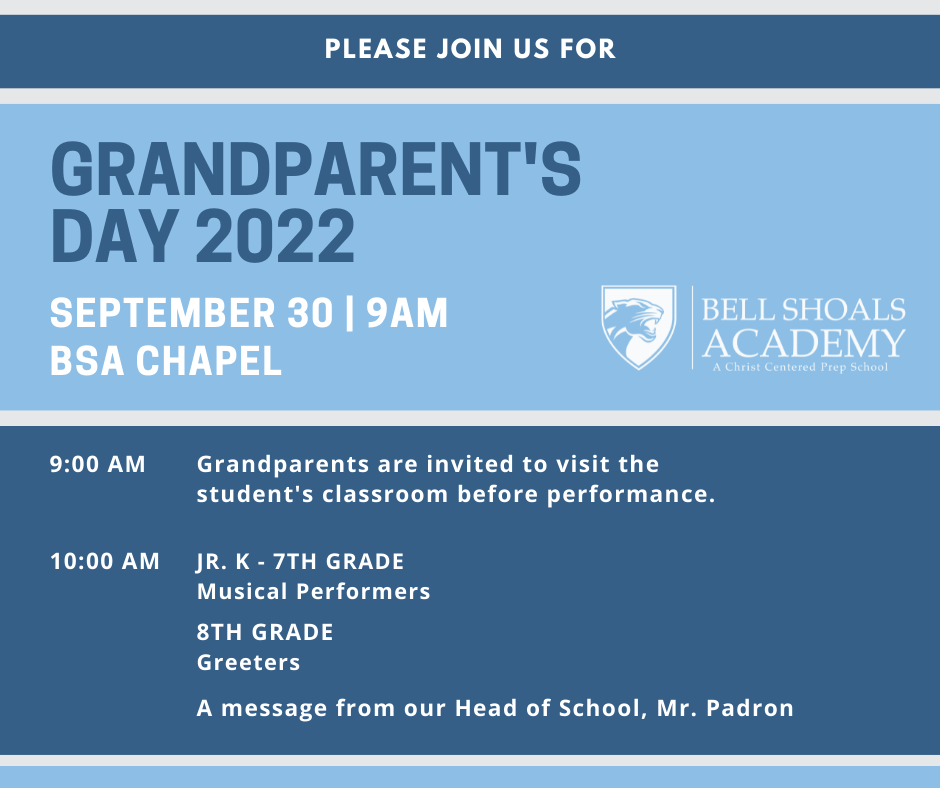 Friday, September 30, 2022
,
9:00 AM - 12:00 PM
Grandparents Day rescheduled due to Hurricane Ian.
As hurricane Ian continues to move in our direction, we felt it was appropriate to close Bell Shoals Academy and the Early Learning Center for the remainder of the week. We will be postponing our Grandparent's Day event to Friday October 21st. Even though it is impossible to predict the aftermath of Ian, we have carefully considered the issues that will most likely arise and make it unsafe for families to travel. Therefore, we felt it was wise to move the event to a date where we can all safely come together to celebrate God's faithfulness. Please join us in praying for our academy, our community, and everyone in the path of the storm.
Schedule:
9 AM - Grandparents are invited to visit their student's classrooms for Jr. K - 8th Grade
10 AM - Musical Performance in the SEC

Jr. K - 7th Grade will perform.
8th Grade Students will be greeting parents and staying to enjoy the performance.
Light refreshments available in the Special Events Center.
Please view our arrival and dismissal page for specific times.
We invite everyone to join for Chick-fil-A Spirit Day for BSA that afternoon after school. Please visit the Chick-fil-A located on SR. 60.